Product Description
The Anatec brand is the worlds largest and longest serving bait boat company.
Trading for 25 years now, they got it spot on with their boats.
As used by the BBC for filming 'Otters Blue Planet' & The National Geographic Channel as well as used by Cad-Map an  underwater surveying company for mapping out Lakes, Rivers & Canals.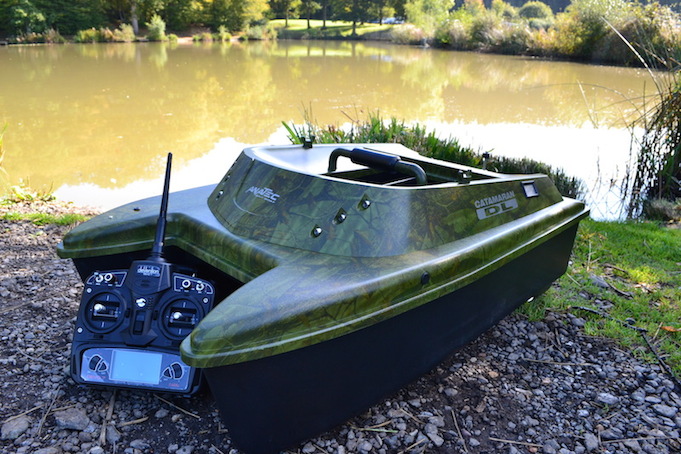 An all new striking Oak Camo Design which really stands out from other boats.
Key Features:
*New LED Battery Display on lid of boat
*Dual Independent Hoppers with gradual open/close mechanism
*Rear Line Dropper for your rig
*Digital Powerful 2.4ghz Radio Gear meaning no interference and working range over 500 meters
*Your able to remove the boat lid in just a few seconds which exposes all internal parts, great for self maintenance
*Twin, powerful motors which makes this boat one of the fastest
About the Anatecs:
This Catamaran is a cracking boat.
Very buoyant and sits well above the water line making it perfect for those choppy waters and to see at a distance.
Six super bright white LED's on front of boat which produces more light than most other boats.
These are controllable from your remote handset.
There are also two 10mm Red LED lights on rear of boat.
The boat is powered by two 6 volt 12amp Lead Acid Batteries.
12amps of power enables the boat to run continuously for 2+ hours
Remote requires 8 x AA Batteries (Duracell Recommend)
What do you receive?
Standard boat bag (Deluxe Padded Available for £79.99)
Spare set of boat batteries worth £44.95
Grease can for shafts
Spare inline fuse's
Necessary chargers, manual all ready to go…
12 months full UK warranty handled by us here at The Cabin, West Sussex which includes postage, parts and labour.
Please note warranty is not covered on breakages such as switch's on remote or remote aerial.
Or water damage to remote transmitter so please don't let it get wet, or extreme damp in side the boat caused to lack of airing out when in storage.
In the rare instance your boat becomes faulty or you just want to ask a question, we're open six days a week either in store or over the phone.
Most emails answered seven days and out of hours.
We have three fixed land line numbers so you can always get hold of our team.
Guarantee you won't receive a better back-up service from any other bait boat company in Europe!
Please note our store is closed to the pubic on the first Saturday of each month.
We now also offer zero % finance on any bait boat package over £399, just pop us an email…thecabin@live.co.uk
Please note: only products purchased from our store, you will receive 100% back up help including all warranties.
Anatec products purchased from other stores in or out side the UK, warranty will be limited.